Freeze-It Antistatic Freeze Spray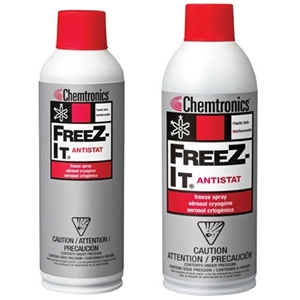 Request a Sample
Your Sample Request
Freeze-It Antistatic Freeze Spray
*=required field
Request SDS
Request SDS
Freeze-It Antistatic Freeze Spray
*=required field
Freeze-It Antistatic Freeze Spray
Freez-It® Antistat is engineered for locating thermal intermittent electrical components or cooling printed circuit boards with minimal static generation. This circuit refrigerant system is nonflammable, residue-free and provides fast cooling action.
Features & Benefits
Pinpoint spray isolates individual components without freezing surrounding areas
Antistatic formulation ideal for use on static sensitive components
Rapidly cools components to -60°F/-51°C
Non-abrasive, safe for use on plastics and other sensitive surfaces
Nonflammable
CFC/HCFC free
Evaporates quickly, leaves no residue
Minimal frost formation
Applications
Cool Equipment for Testing
Dissipate Heat While Soldering or Desoldering
Isolate Thermal Intermittent Components
Test Circuit Traces for Continuity, Stress Fractures
Track Static Sensitive Components
| | |
| --- | --- |
| Specifications | 6850-01-560-5804 |
| NSN | ES1551 - 6850-00-142-40716 |
| Shelf Life | 10 yrs. |
| Shipping Name | Consumer Commodity ORM-D |
Order from an authorized distributor
Articles
Ultimate Guide to Diagnostic Freeze Spray
Diagnosing and repairing electronics can be painstaking and sometimes frustrating work. Problems can be intermittent, with the faulty area on the PCB difficult to locate. Freeze spray is an essential tool, because it helps identify faulty components, solder joints, and other problems that can lead t...
Read this Post