Conformal Coating
Ask us how we can improve your conformal coating process.
Use Konform

®

Conformal Coating for Maximum PCB Protection
Chemtronics Konform® Conformal Coating is used for spray, dip tank, and brush applications. They're engineered for applications in aerospace, marine manufacturing, electrical equipment, instrumentation, and data communication. They protect printed circuit boards, components and flex circuitry from damage. These coatings provide excellent electrical insulation properties that withstand hot and cold operating environments, thermal shock, mold, and fungus.
All Konform® conformal coatings contain a UV indicator for improved quality assurance. They offer high dielectric strengths of 1100 volts/mil or more. These tough, transparent coatings will not fragment, chip or crack, thereby providing excellent protection. All are convenient and ready to use — no mixing is required.
All Konform coatings are tested in accordance with the IPC-CC-830B standard to ensure they are well suited for coating sensitive electronics.
Silicone Resin (SR) – Provides excellent protection in a very wide temperature range, good chemical resistance, salt spray resistance and are very flexible. Removal can be challenging, requiring specialized solvents and long soak time.
Choose Your Product
---
---
FAQs
Articles
---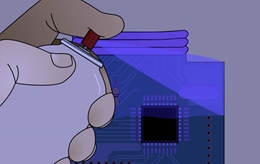 Tin Whisker Mitigation Strategies: Cleaning or Coating?
After the European Union's legislation of Restriction of Hazardous Substances (RoHS) which prohibits the use of Lead (Pb) in electronics manufacturing, electronics manufacturers have transitioned toward Pb-free products. Solder material has particularly undergone a complete shift from lead to ...
Read This Post
The Ultimate Guide to Conformal Coating
Historically, the only circuit boards going through a conformal coating process were those intended for use in mission-critical applications, like aerospace. Increased popularity surrounding electronic miniaturization and wearable electronics has led to a higher demand for the protection and reliabi...
Read This Post